Blog
Bag-making and great customers.
One of the great things about New York City are the specialized stores in the Garment District.
The Garment District, for those of you who may not know, is an area in Manhattan bounded roughly by 34th Street and 42nd Street, between 9th and 6th Avenues. You can see a pin for the famous Mood Fabrics on the map here. (A topic for a future blog post, I promise!) The District is home to all manner of fabric stores, tailor suppliers, wholesalers and retailers (check for signs on the door so you don't walk into a wholesaler by mistake) catering to the fashion trade.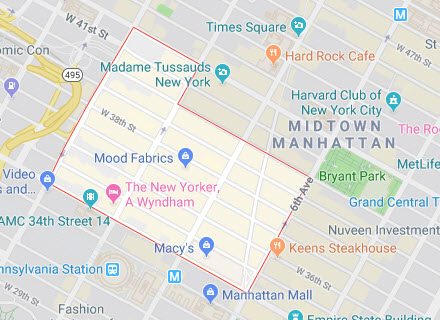 Pacific Trim is one of the specialized stores I like to visit for inspiration when I'm in the city. They have all kinds of buttons, ribbons, braids, studs, purse hardware and, of course, ZIPPERS!
Here is just one of the aisles of zippers (there are three full aisles of zippers at Pacific Trim). I just love the little bitty ones at the bottom right.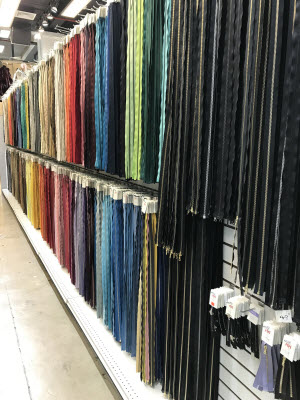 You can even have custom zippers made while you wait at Pacific Trim. You choose the zipper tape, the pull, the slider, etc., tell them how long you want it, and they will assemble it right there.
Looking for decorative rings for your next bag project? How is this for inspiration - and it was just one of two boxes on display.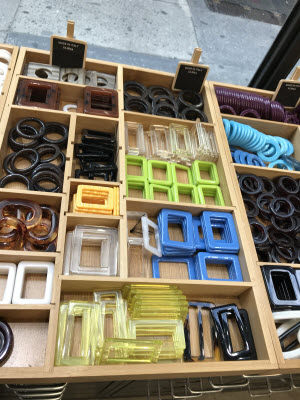 Stop in next time you're in New York and I promise you'll have a great time just browsing the aisles. Be sure to bring your fabric if you want to get a perfect match against one of the hundreds and hundreds of colors of zippers and trims there.
Pacific Trim
218 W 38th St, New York, NY 10018
(212) 279-9310
pacifictrimming.com
All the best,