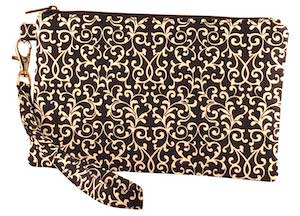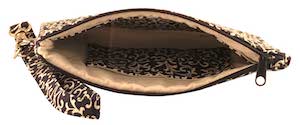 Cell phone wallet purse holds your phone, cards and more!
Main compartment accommodates phones up to 6-1/4 in. x 4 in. Outer dimensions: 7-5/8 in. wide; 5 in. tall, 1/4 in. thick. Inner cellphone pocket is 6-1/4 in. x 3 in. Inner card pocket is 4-1/4 in. x 2-3/8 in.
Detachable strap.
Nylon zipper closes completely and stays closed.
Phone pouch is sturdy and flexible without being floppy.
Elegant navy and white scroll design dresses up or down for any occasion.