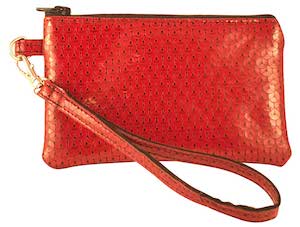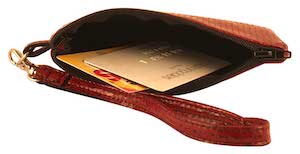 This is definitely a unique wristlet - I'm almost tempted to keep it for myself! The material is smooth, soft and shiny but it doesn't show fingerprints. Self-lined with soft black felt.
Dimensions: 5 1/2 in. by 3 1/2 in. Large enough for credit cards, folded bills and other odds and ends.
ONLY ONE AVAILABLE. I made this from a fabric sample, and I believe it has been discontinued so I can't accommodate requests for additional items.
Detachable strap.
Nylon zipper closes completely and stays closed.
Sturdy and flexible without being floppy.
Elegant design dresses up or down for any occasion.
NOTE: Unlike many of my other products, I do NOT recommend washing this. Just wipe it down with a damp cloth if it gets soiled.